- by John Luxford
As you may remember, we recently renamed our company Flipside XR from our former name, The Campfire Union.
As The Campfire Union, we experimented a lot with VR as a medium to really understand its strengths, constraints, and particularly, its creative potential. We experimented with everything from games, to virtual relaxation, training, and 360 video, but we just kept coming back to what we all were outside of VR, artists and performers.
Officially, we started Flipside in spring of 2016, but its conception goes much further back than that. All the way back to Peg Jam 2014 in fact, where Les and some friends made Party Sketch 3D, which is kind of like Tilt Brush meets charades (the charades concept would become one of our first experiments in Flipside).
In 2015, we ventured into our next creative VR experiment with a dance / music performance app called Lightshow. Lightshow was inspired by art forms like fire spinning, poi, hooping, and gloving. Lightshow recorded your dance movements and people could watch your performances over the web.
Lightshow was made on the Oculus Rift DK2 with a pair of Razer Hydra controllers. Because the Hydras used electromagnetic sensors, they used to freak out when you moved your hand too close to the metal edge of our whiteboard, which happened a lot because we were crammed into a tiny little office back then.

We learned a lot from that experiment, let it stew for a while, and turned that learning into Flipside about a year later by combining the performance elements of Lightshow with the basic multiplayer code from our Lost Cities VR game, which was midway through development at that time.
Here's a video of Les and John demoing Flipside in May 2016:
You can even see Lightshow's light streams on my hands in the Flipside demo around the 0:50 mark. But this time, we had also decided to focus more on characters, because we realized that the performer is at the center of any performance. We knew we needed to go deep on characters, so we started down that path right away in Flipside.
The next thing we built was Flipside's Magic Pencil, which lets you draw your own props and use them to improvise. We even built a timer and a random drawing suggestion that would appear only for the person in VR, and we played a big guessing game with the Winnipeg Alternate Reality Club (our local AR/VR meetup). Super fun night!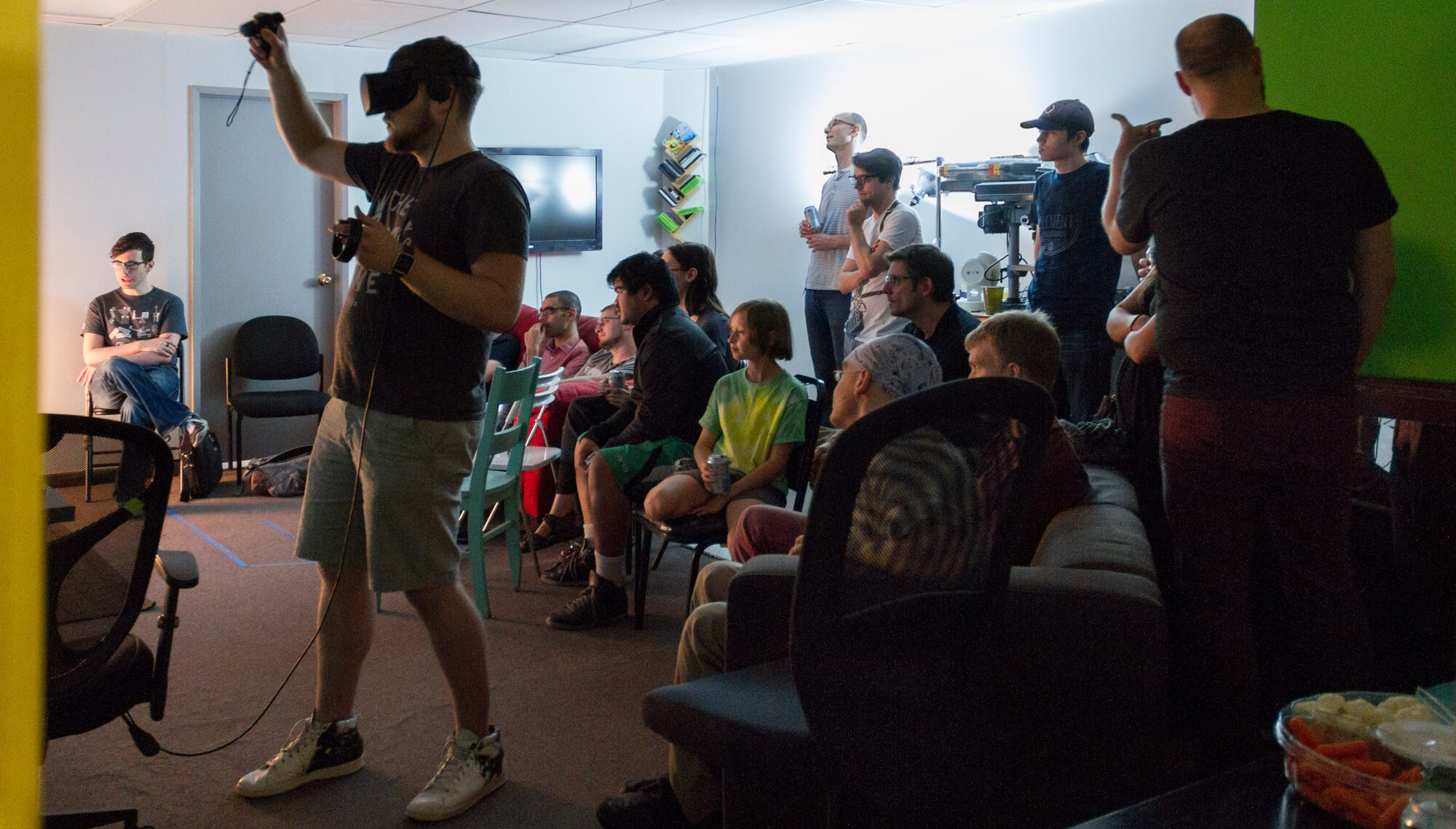 We definitely knew we had a long road ahead to achieve our vision for Flipside, but that's life for what was then a team of four people bootstrapping a startup with service work, creating a 360 video experience with the CMHR, and finishing their first VR game (with multiplayer no less!). So I'm rather proud of what we accomplished that year :)

Here's the earliest blog post we could find about Flipside:
https://www.campfireunion.com/blog/post/59/we-need-some-help-from-our-friends
That was also the year that Les won a whopping $100,000 pitching Flipside in a local pitch competition, which was the spark that enabled us to shift from service work to working on Flipside full-time. That led to us joining Boost VC's Tribe 9, where we met lots of other awesome sci fi startups (as Boost VC likes to call us), and a seed funding round in 2017.
At Boost, we met San Francisco comedian Jordan Cerminara and created a YouTube series called Earth From Up Here together, about an alien newscaster named Zeblo Gonzor who delivered weekly updates about the strange things happening down here on Earth. That show proved what people could do with Flipside, and helped us learn from working in collaboration with a writer and actor to help shape and improve the app for future users.
Fast forward to March 2018, we were finally ready to take all that learning and share it with the wider VR creative community. We first released Flipside in early access on SteamVR and soon after on Oculus Home as well. The positive reviews and the response was amazing!
Since then, we've made over a dozen updates with tons of improvements and new features to help Flipside's creators. Custom character and set importing evolved into shared characters and sets. Our early camera controls evolved into a complete in-VR camera switcher (and we have lots more up our sleeves too).
Most recently, we brought Flipside on stage in the form of a TEDxWinnipeg talk that John did in June about how virtual avatars are revolutionizing our sense of identity. And hot on the heels of that, we partnered with local improv duo Stephen and Caity to put on a live animated improv theatre production called Pixels that uses Flipside to render the show in real-time as they act it out in a pair of HTC Vive headsets. The show opens for 10 days starting this Thursday, July 19.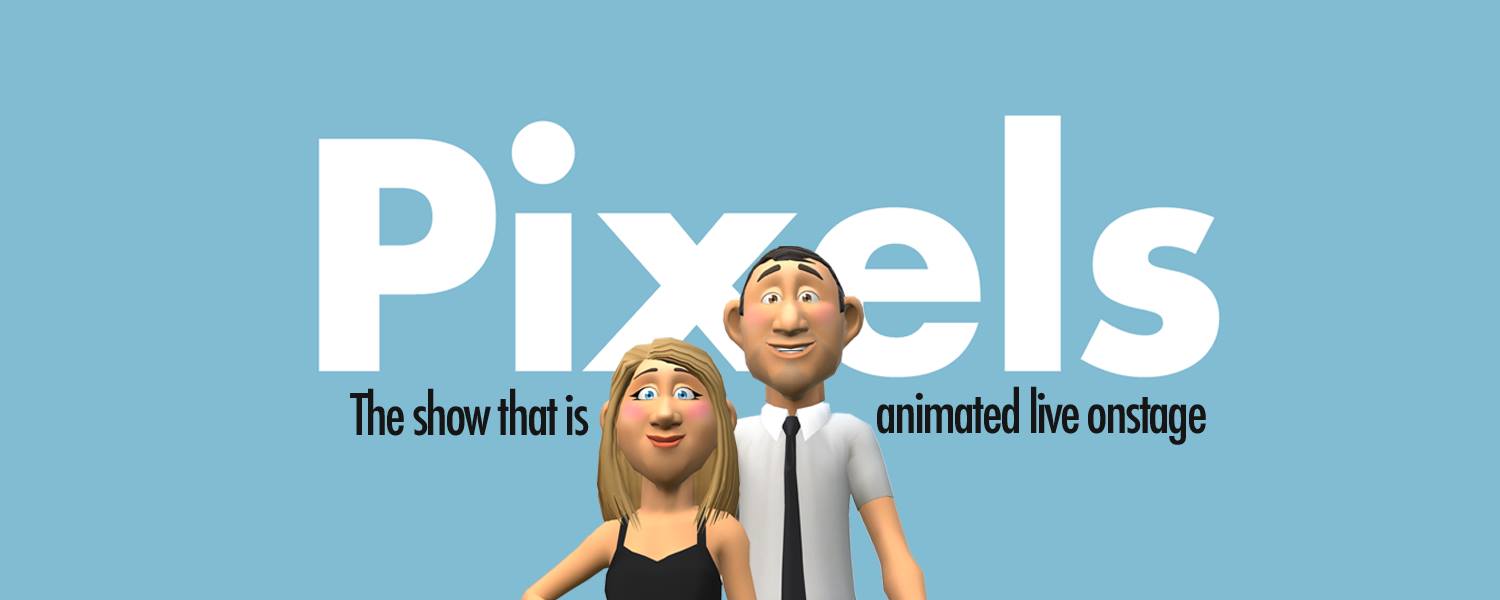 So what's next?
It's safe to say that at this stage of VR and AR (or just XR), no one knows how to define an "XR show" or "XR entertainment" yet. We have some examples of it, but we've barely scratched the surface (just like two years in, we've barely scratched the surface of what Flipside is going to grow into).
And certainly no one company should solve that all by themselves, either. We don't live in an echo chamber, and we're going to discover more and faster if we all put our heads and hearts into it.
That's why our philosophy centers around the believe that the more the merrier in figuring that out. It's a big world, and we believe there's room for all our voices as we discover how to create beyond reality's limits, together.
Join us in discovering new formats, techniques, and rules for storytelling in a whole new immersive medium.