- by John Luxford
By John Luxford, CTO & Cofounder - Flipside

I had my first visit to Austin, Texas for Unity's Unite conference which ran from October 3-5, and wanted to share some highlights from the amazing week I had there.
Neill Blomkamp interview
Neill Blomkamp, maker of District 9 and Chappie, has been collaborating with Unity to produce the next two short films that are part of Unity's Adam series. The series is meant to demonstrate Unity's ability to render near lifelike animated content in real-time, and it is just beautiful.

The first of the two new short films is called Adam: The Mirror, which was shown during the Unite keynote just before Neill Blomkamp was invited on stage to talk about the differences moving from pre-rendered CG to real-time, and how his team felt like it was almost cheating because you no longer have to wait for each frame to render before watching the results. It was super cool to hear him speak, having been a big fan ever since I first saw District 9.
Rick and Morty talk
It's always a pleasure to hear Devin and Alex from Owlchemy Labs talk about VR, not just because they're super entertaining, but because of the careful consideration they bring to each aspect of design and development.
This talk deconstructed their Rick and Morty: Virtual Rick-ality game, showing how they solved issues like designing for multiple playspace sizes, 360° and 180° setups, making teleportation work in the context of the game, and designing interactions for a single trigger button control scheme.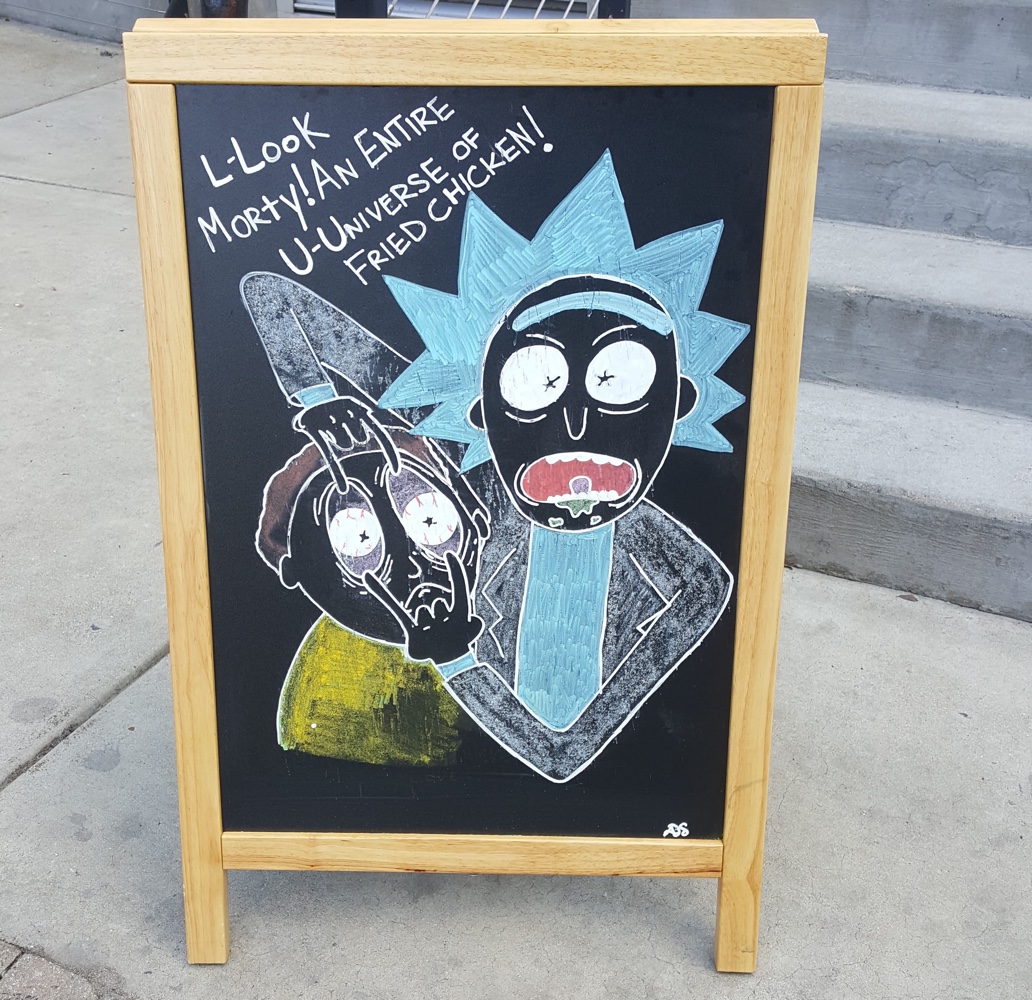 They also showed a spreadsheet of the possible permutations that the Combinator machine lets players create, and it reminded me a lot of their talk about Dyscourse having around 180 separate branching narratives all weaved together. Sometimes to solve the hard problem the right way takes an awful lot of hard work.
Airbnb roomies
I arrived in Austin just in time to head over to the Unite Pre-Mixer put on by the local Unity User Group. As I was walking around the room going between the drink station, the various VR and AR demo stations, and chatting with the occasional person, I hear a "Hey you, you look like you're just wandering around. Come talk to us!" from someone who then introduced himself as Byron. We all had a great chat, and it was a nice welcome into the Unite community.
Fast-forward a day and I head back to my Airbnb around 1am after cruising 6th Street with some friends I ran into / met that day, and sitting on the couch is a guy who introduces himself as Mike who just came back from Unite as well. Awesome! So we get to talking, and about 15 minutes later Byron walks into the house, looks at me, and says "I didn't know we were roommates!"
We all laugh about it, find out we're all Canadian too, and stay up until around 4am laughing and telling stories. Couldn't have been a better living situation to find yourself in for your first Unite :)
AR roundtable
I got invited to participate in a roundtable with a handful of other developers to share our thoughts on how Unity can better support AR development. It was an honour and super fun too! We talked about so many aspects of both AR and VR, challenges with input limitations, tracking limitations, trying to create useful apps instead of short-term gimmicks, and lots more.
This highlighted for me how receptive Unity is to learning from its community of developers and artists. Coming from the open source world, you can really see which projects listen to their user base, and which ones assume the user must have done something wrong. The bug couldn't possibly be our fault.
It's very encouraging to see Unity fall squarely on the right side of that cultural divide, and is something I felt echoed in each conversation I had with Unity's developers over the course of the week.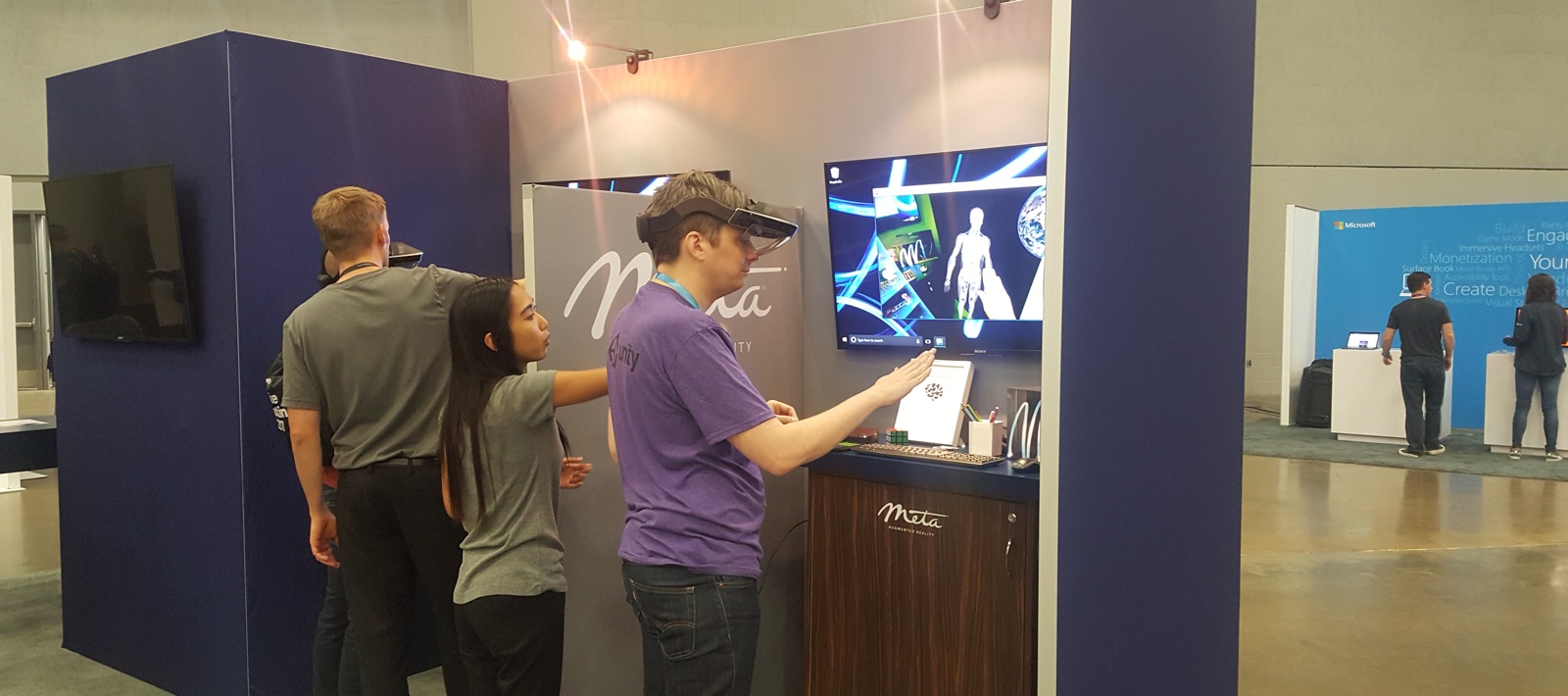 Other notables for a post that's already too long
Got to try Microsoft's Mixed Reality headset and controllers (which were quite impressive!), while our dev kit arrived back at the office that same day.
Got to try the Meta 2 AR headset. Much better field of view than the Hololens, but interactions are equally limited at this stage. Someone please integrate Leap Motion into your AR headset!
Our first package was approved in the Unity Asset Store during the conference - VRKeys, a free drum-style virtual keyboard for Oculus Touch and HTC Vive.
So much BBQ meat and tacos - Austin is a great city for food!
Thanks to Unity for the awesome party with fancy cupcakes, donuts, live band, and great conversations. I may have had more fun though at the Jackalope afterwards with Byron and the Owlchemy Labs crew :P
Unity's new Entity and Job System for Data-Oriented Design and writing code that can more easily utilize all CPU cores looks AWESOME! Watching Joachim Ante (CTO/Co-founder of Unity) give an hour-long talk going over the new system in detail was really cool.
Now I can't wait for Unite 2018. I look forward to learning lots of new things again, and seeing many familiar faces. Thanks to everyone who made my first Unite such an awesome one!