- by Lesley Klassen
At the end of each year, YouTube creates their Rewind video that celebrates the videos, people, music, and memes that hit big. For the first time, YouTube featured animators in their Rewind video.
In fact, animation is really growing on YouTube and you can see this at conferences like VidCon, that are seeing more programming devoted to animation.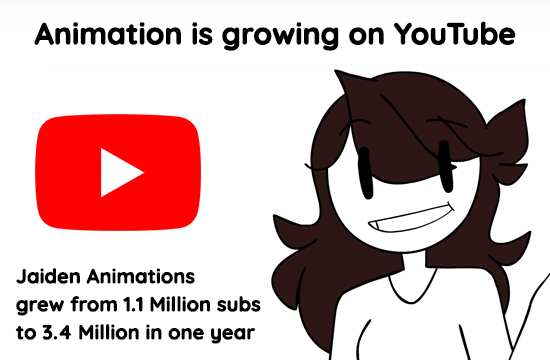 You may be saying to yourself, "What's the big deal? Animations are becoming more popular on YouTube, so what." It all comes down to the YouTube algorithm and the added challenges that animators face over live-action content creators.
If you have an hour or more to spare watch this enlightening video on the YouTube algorithm by the Fine Brothers and MatPat from Game Theorist. There are some great insights to take from this video. Primarily, creators need to post regularly and have videos with longer watch times, preferably over 10 minutes long.


Creating 10 minutes of live-action video is challenging enough, but it's not nearly as tough as it is to create 10 minutes of animated content on a regular basis. It's actually damn near impossible. Animation takes a long time.
YouTube made it even harder for animators with the new changes to their monetization policy. Now you need 1000 subscribers and at least 4000 hours of viewership over the last 12 months in order to qualify for their YouTube Partner Program. This means that animators need to create 10 minutes of content or longer on a frequent basis, preferably 2 - 3 times a week, and build a subscriber base of 1000 before even turning on monetization. For many animators, why bother?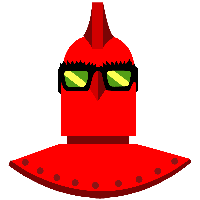 Channel Frederator represents over 3000 animators on YouTube and provide services that help YouTubers market their animations. They felt the need to respond to the new YouTube monetization policy. "Channel Frederator Network has decided to allow members of the network, who have been kicked out of YouTube's Partnership Program, to stay and use our tools & resources to help them reach new audiences," states Director of Networks Kenneth Ash.
Animators really do have a dilemma. Especially those up and coming channels who haven't reached monetization. That's the thing about animators, they are so passionate about animating that they will persist for the love of the art. But persistence won't change the YouTube algorithm, however technology can help.
Flipside Studio is a real-time animation studio. We simulate a film set or TV studio inside virtual reality to allow an animator to use filmmaking techniques along with real-time motion capture to make animated content. Because it's real-time, it takes about the same amount of time to make a Flipside animation as it takes to record a live-action video. We make it easier to make longer animations more frequently so animators can start competing against live-action creators for subscribers and watch time.
There are multiple strategies animators are using to currently keep pace with the demands of the YouTube algorithm, and we know Flipside can help.
Interstitial content
Many animators release monthly, which is not optimal. Interstitial content can be created with Flipside and released in between the larger monthly releases to keep a channel freshly updated.
Add to an already existing animation format
Augmenting an already produced show with new elements made in Flipside will speed up the process. For example, Liam the Leprechaun is using Flipside to introduce his gaming channels.
Create new animations
Use Flipside to make a new show that satisfies the YouTube algorithm by taking advantage of the real-time nature of Flipside. FunPack is an example of this.
Live stream an animated show
Real-time animation is great for live streaming. Each stream can be captured and re-edited too. Take advantage of connecting with a live audience while making content well suited for YouTube.
We believe that real-time animation technology will play a big role in the future of animation. This is especially true on competitive platforms like YouTube that have algorithms that play a role in surfacing content. Animators have it tough but new technologies like Flipside are emerging to level the playing field. Sign up for our private Alpha to give Flipside a try.
- by Lesley Klassen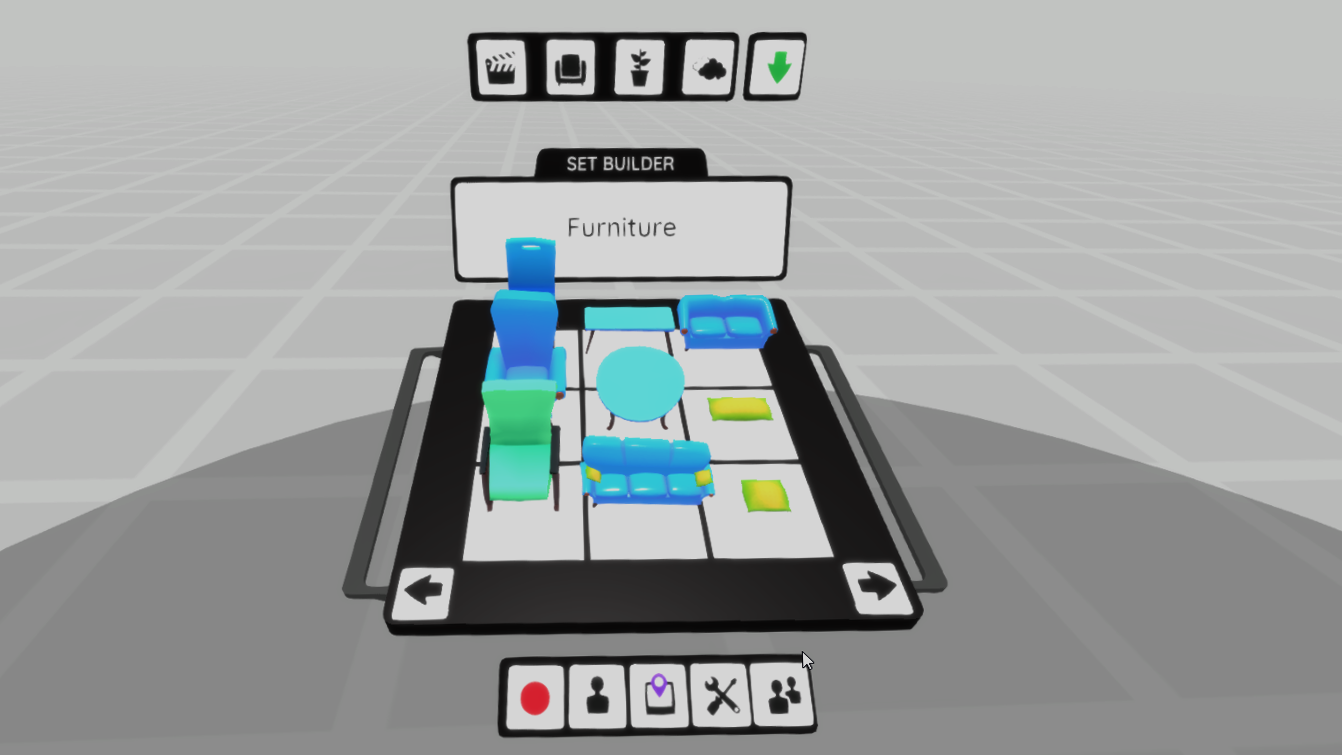 Today we posted an article on Medium about the making of the interface for Flipside. The process was a team effort. We explored many idea and now as we ready Flipside for public release on early access for both the HTC Vive and the Oculus Rift we wanted to share the process and give people a sneak peak at our palette interface.
- by Lesley Klassen
By Lesley Klassen, CEO & Cofounder - Flipside
I often hear how VR will enable us to fly around virtual worlds, explore vast virtual spaces, and bring a new reality into the lives of its users. This is somewhat true already, however, VR really can't achieve all these promises without some locomotion trickery.
Sign up for early access to Flipside!
Locomotion is the technical term used when explaining how users move around in virtual reality. When you use desktop VR like the HTC Vive you can walk around the tracking volume that was mapped out when you setup the Vive. The blue dotted lines below represent the tracked space you can move around in.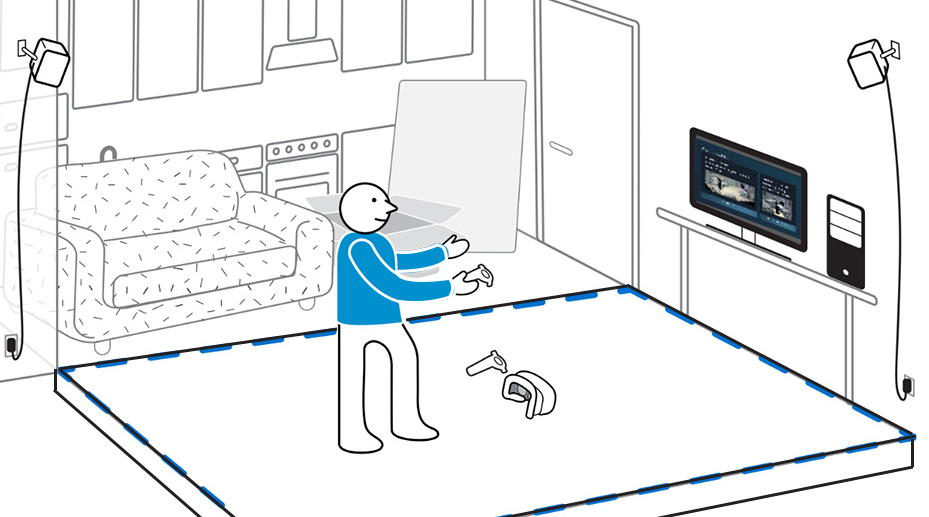 Image source: Upload VR
For every step you take in the real world, you take one step in the virtual world. In order to fly, or explore vast worlds, you need to use locomotion techniques that make you feel like you are traveling beyond the tracking volume. For some people, like me, that can feel uncomfortable. But we haven't explored the limits of the tracked space yet. How much can we achieve in VR without resorting to locomotion tricks?
The tracking volume as a stage
Rather than flying around and exploring vast new virtual worlds, what happens if you think of the tracking volume as a virtual stage? If you see VR from this perspective the opportunities for creators are endless. It is possible to turn every tracking volume in the world into a performance space. This is a complete game changer.
When new technologies are introduced there are winners and losers. Blogging changed the landscape of the newspaper industry forever and virtual reality will disrupt the stage.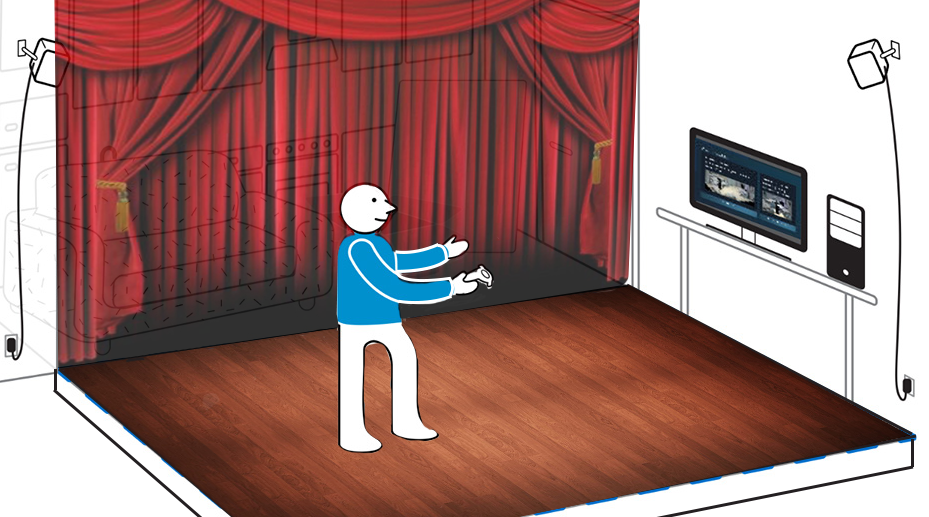 The stage plays a huge role in the entertainment industry. Concerts, theatrical plays, musicals, live TV shows, sitcoms, and of course dance all use a stage, on which the show occurs. It's big business with large viewership.
Who is doing this right now?
The Foo Show
Will Smith, not that Will Smith, co-founded tested.com and started Foo Show. He is creating talk shows in VR and launched the initial episode of the Foo Show in early 2016 and he making more.
Gunter's Universe in VR Chat
If you've read Ready Player One you will recognize the name Gunter. The team at Gunter's Universe have been producing a VR talk show since 2014. They have interviewed over 50 leaders in the VR industry.
Fireside chats in High Fidelity
Philip Rosendale, co-founder of High Fidelity, and former CEO of Second Life has brought his open world vision to VR. High Fidelity is an open source platform that allows developers to craft new worlds and places, including VR talk shows and virtual performances.
Reggie Watts and Justin Roiland in AltSpace
AltSpace is a social VR platform. They hold the record for the most number concurrent viewers watching a live show in virtual reality. They were also one of the first to bring celebrity entertainers into VR.
But who's watching?
Virtual reality is still in its infancy. The only people who use it regularly are innovators and early adopters.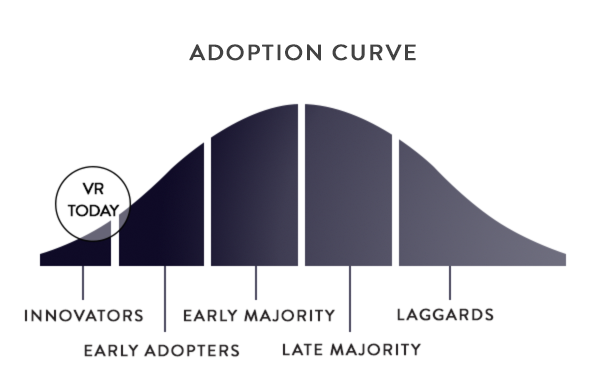 There are two challenges holding back mass adoption. The hardware needs to come down in price and VR needs more content. Seeing the tracking volume as a stage and empowering creators to make more content will help solve the content problem. We will have to wait on the hardware manufacturers to make the hardware more affordable, but fear not, it's happening. Our future will be filled with amazing, captivating, and engaging VR performances on virtual stages.