- by Starling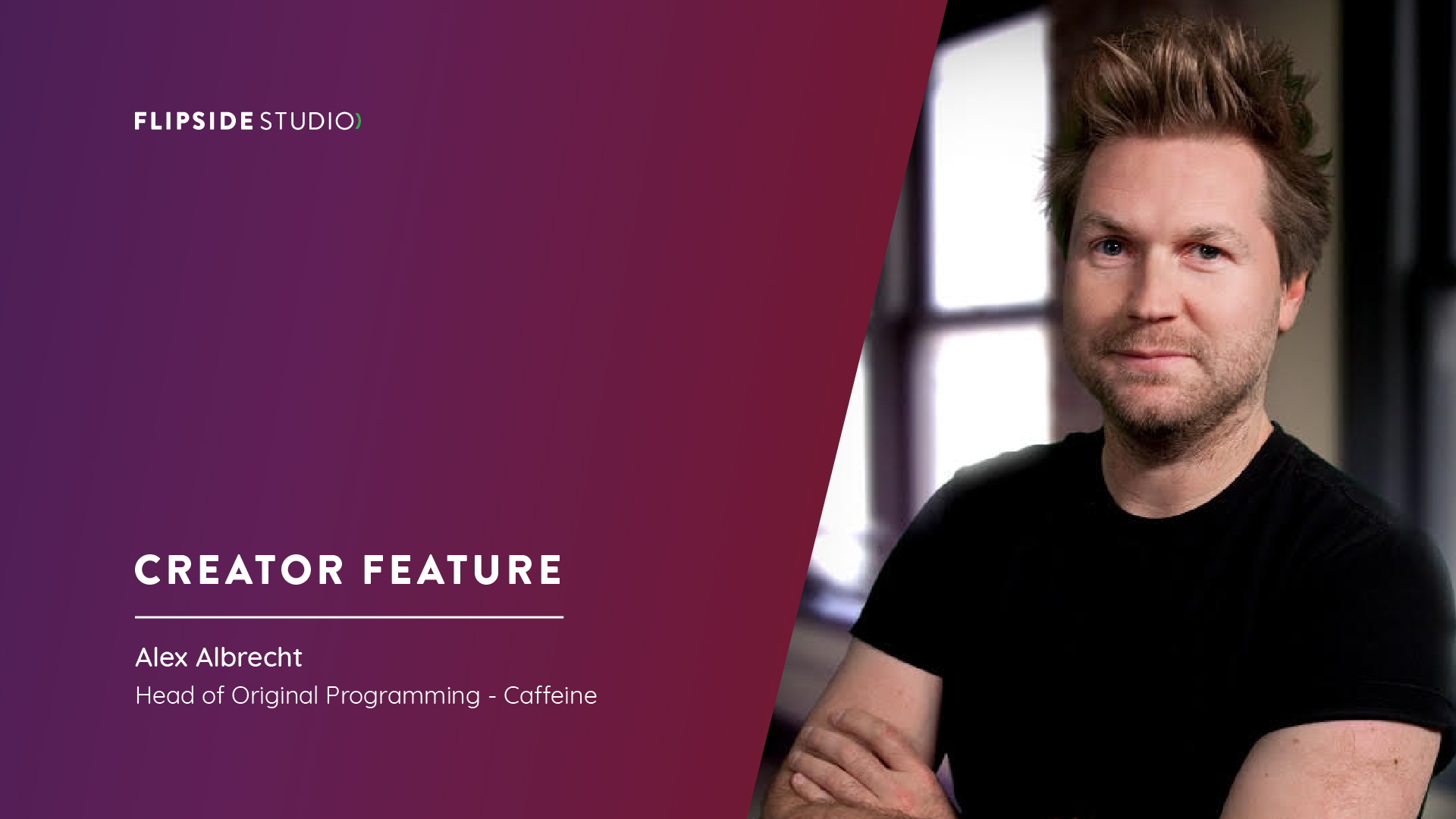 "When you're doing this mocap stuff live, there's just nothing like having a character seeing the other character in real time . . . picking up a prop and making a joke or throwing something because you're angry. You just can't do this stuff outside of the software that you guys built, outside this mocap concept of animation," says Alex Albrecht, Head of Caffeine Productions. "I don't know how we go back into a studio and not bring Flipside with us."
We've been following Alex since Diggnation, a weekly video podcast he hosted with Kevin Rose that ran for 7.5 years. Lately, Alex and his team at Caffeine.tv have been using Flipside Studio to produce two animated shows: Live From the 8th Dimension and The Dungeon Run. We sat down with Alex to discuss his love for all things VR, motion capture, and how his team creates animated shows remotely using Flipside Studio.
1. Tell me about yourself.
"I came out here as a computer science guy," says Alex. His career in the entertainment industry started in the early 2000s. With a computer science degree and a passion for improv comedy, he moved to L.A. and took a job at the RAND Corporation, a nonprofit global policy think tank.
Alex spent a lot of time watching TechTV, and was particularly intrigued by an hour-long daily tech show called The Screen Savers. After meeting a producer from TechTV at a wedding and learning his favourite show was holding co-host auditions, Alex jumped at the opportunity.
"I have an improv background and a computer science degree. Where do I sign?"
Three weeks later he was co-hosting The Screen Savers with Kevin Rose, which led them to create Digg.com and the video podcast Diggnation. From there he created, produced, and hosted content for the Revision3 network, and went on to direct and produce several feature films and commercials.
When his friend started Caffeine.tv, a live social experience app, Alex joined as an advisor, and eventually came on full time to manage original productions. Now he's the head of production at Caffeine and oversees everything the network produces in house, including the production of two shows with the help of Flipside Studio.
2. What are your biggest challenges with mo-cap animation?
"I always knew that this technology could really get rid of the barrier to entry for animation and for mocap specifically," says Alex about his first experiences with Flipside Studio. "Because it's based on a game engine you can literally do anything you want. If you can imagine it, you can do it."
His biggest challenge was convincing people it was possible to create an hour of content for a weekly animated show. It hadn't been done before.
"Twenty-two minutes is basically the most anybody makes of animated content. And they take months and months and months to generate that. And here we are going—no we're gonna do an hour and we're gonna do it every week."
They set up the VR equipment and started to experiment. One night while Alex was away, the team put on the VR headsets, chose their characters, and hit record.
"I watched it and I was like, this is amazing. This is hysterical. It clearly was improvised. It was clearly just three people punchy at work. But it was undeniably engaging."
From there, Alex's team at Caffeine created Live from the 8th Dimension, which had a 46-episode run. They used Flipside Studio for every aspect of the show, and became a sort of "power beta tester" putting the software through its paces and pushing it to where it is today.
"We did everything that it was designed for. At every split second of the day. There was no feature that we weren't using extensively," says Alex.
3. How do you use Flipside Studio for VR mocap? What made you choose Flipside Studio over other mocap animation options?
Years before he learned about Flipside Studio, Alex had a moment while playing Star Trek Bridge Commander, a VR game where you could embody a Star Trek Character on a ship.
He was catching up with one of the other players before everyone else arrived. His friend, as a Vulcan science officer, was telling him about meeting a girl at a bar. "But I'm seeing a Vulcan science officer in a Star Trek-like conference room, and he's like hanging his head in his hands . . . It was hysterical. Like, that was a piece of content I would consume."
Alex was also learning about Machinima, the concept of using real-time game engines to create cinematic productions, but found the process too complicated.
"But then when Flipside came along and I was like, oh, I get it. It's Machinima. It's Star Trek Bridge Commander. But it also gives us all these production tools that we can understand because we know how production works. It just all came together . . . it was the one tool that really did everything."
4. How does Flipside Studio make mocap easier?
One of Caffeine's Flagship Shows is The Dungeon Run, a weekly live RPG tabletop narrative experience. The show featured five players sitting together around a table on a massive set with an animatronic puppet as the host. The production design team built elaborate Dungeons & Dragons models, and they had multiple cameras and a jib capturing the action.
When COVID hit in spring 2020, they had to find a way to create the show without having everyone in the same physical space. After some testing, they landed on a concept that has the players on screen on video chat, with the digital map on a virtual table in Flipside Studio. The miniatures are animated and can move in real time.
"That concept has evolved into some of the most amazing Dungeons & Dragons playing that has ever been put to tape . . . it's better than what we do in the studio," Alex says. "I don't know how we go back into a studio and not bring Flipside with us."
5. What have you made using Flipside Studio? Where can we find it online?
All 46 episodes of Live From the 8th Dimension are available on YouTube.
The Dungeon Run streams live every Wednesday at 6pm PT https://www.caffeine.tv/thedungeonrun. Watch old episodes here and see how the production has changed with the times.
To learn more about Alex and Caffeine.tv, check out their website.
---
Want to start making your own mocap animation? Click here to learn more about Flipside Studio.
Watch our unedited interview with Alex below: