- by Lux
As we continue to build out Flipside Studio and learn from our users, we decided to make update #20 the first update that's only available to Flipside's Beta users. With so many new features, we want to work with our most active creators to make sure we get it right. If you want to explore the full potential of Flipside Studio, sign up or opt-in to our Beta.

NOTE: This update is an experimental release. In order to use it, you will need to opt into our Beta channel on Steam (instructions below) or sign up here and we will add you to our Beta channel on Oculus.


Make shows together, the way it should be
When you press the Friends button on the palette, you'll see our new Friends & Notifications panel appear.
This is the new social hub in Flipside, where you can find your friends, invite them to collaborate, and find notifications for things like friend requests, invites, and also the occasional Flipside announcement.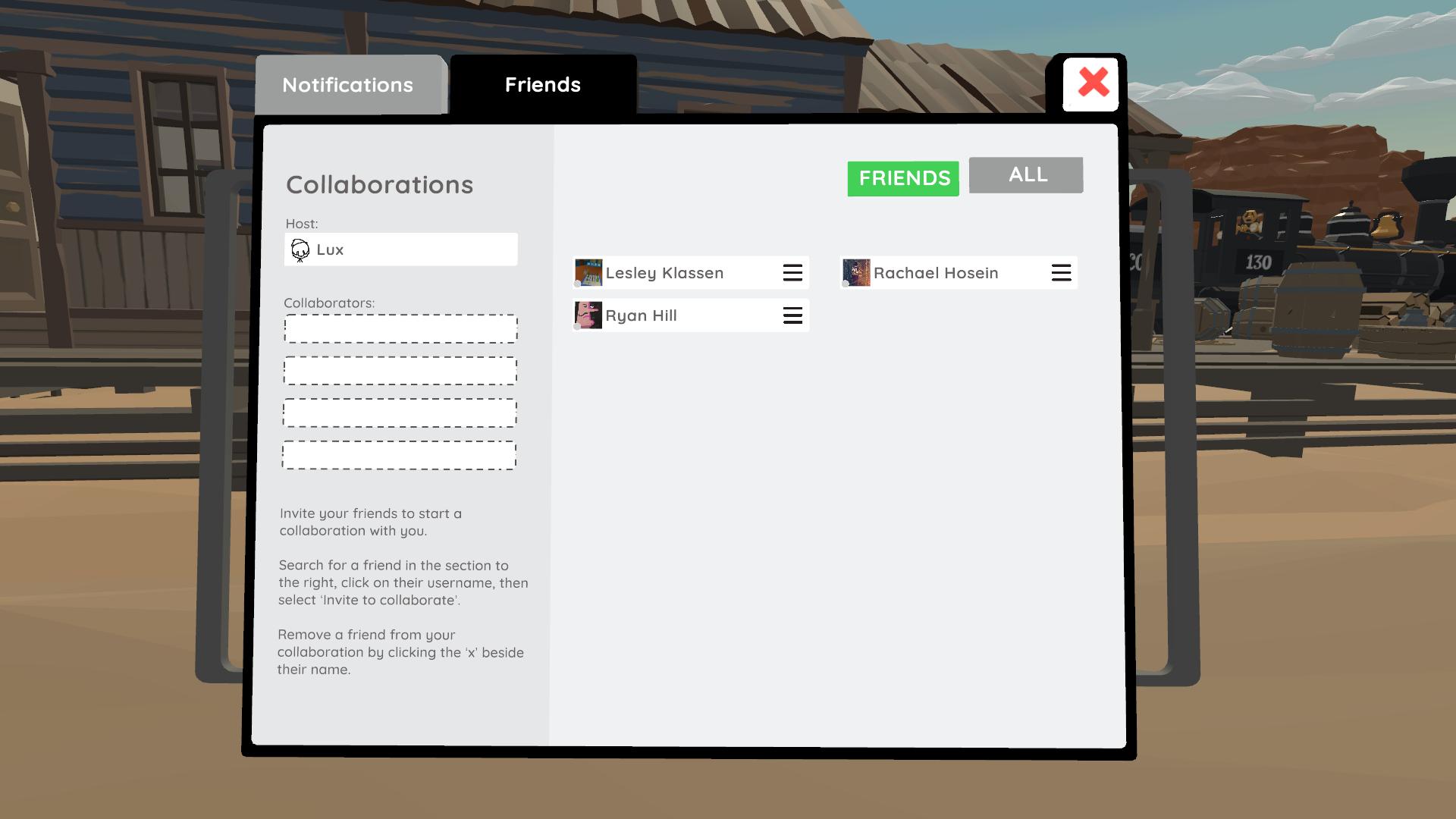 Multiplayer works across platforms, so it doesn't matter if your friends are using an HTC Vive and you're using an Oculus Rift. You can still hop in, connect, and create content together over distance.
Please note that because multiplayer is still an experimental feature, some things may not work as expected. Please report any bugs on our Trello roadmap or Discord #support channel.
Creator Tools updates
We've also made a some big improvements to the Flipside Creator Tools. Note that these also require you to be on our Beta release channel (see above). Follow this link to update to v0.14 and enjoy the following improvements:
You can now specify multiple meshes on characters and Flipside will apply blend shape values to all of them. Note that the blend shape names must match the ones on the main mesh.
You can now specify a jaw bone to animate along with the open/closed mouth blend shape in Simplified Blend Shape animation mode.
Skies now load when you press Play to preview your sets in Unity, so you can get a better sense of how they'll feel in Flipside.
ColliderElement can now collide with one or more specific objects, or objects with a custom tag (note: uses a CustomTag component, not Unity's own tagging system).
Character elements that are placed on the UI layer are now hidden from cameras but visible in VR.
Thumbnails for sets will now always match the bundle file name, so they're easier to find.
Thumbnails for characters now have a light grey background and better capture larger characters.
Added quick links to the user manual and other improvements to make the steps clearer.
Other bug fixes and improvements
We've moved the second level buttons on the palette menus from the top to underneath the main menu buttons. This was something we've been meaning to do for a while and got it done just in the nick of time!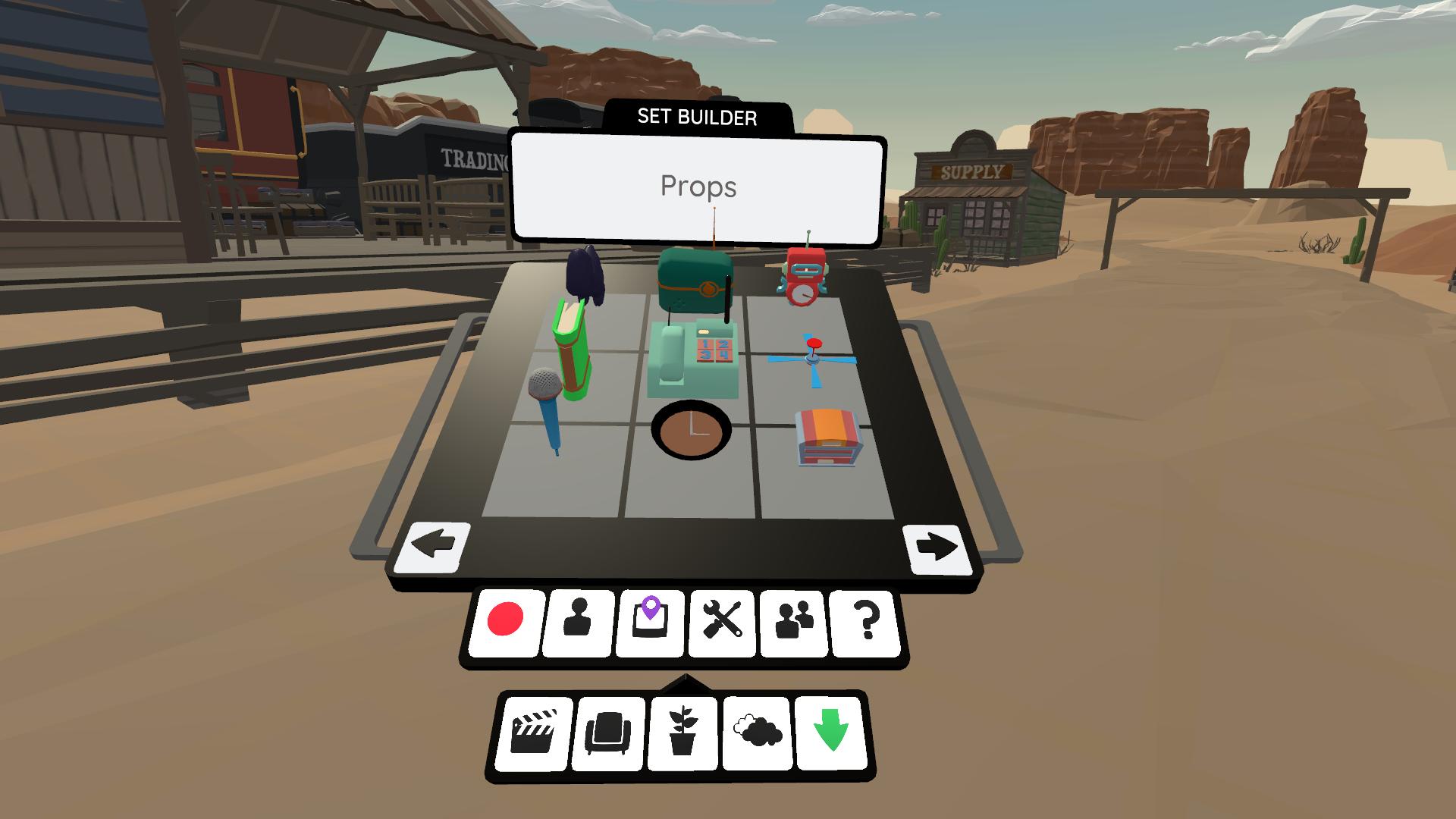 And that's not all! We also fixed:
Timeline-based animations in custom sets now play back in sync with Flipside recordings, just like Animator-based animations.
Fixed a case where hand movements could get screwed up on Oculus when leaving Set Builder mode.
Fixed the Magic Pencil's colour wheel flickering briefly when new instances are created.
The Vive tracker "Connect Trackers" buttons are now hidden for non-Vive users.
Google Drive links now work correctly with the slideshow.
Added a setting to completely disable the user interface sounds (currently auto-disabled when recording or when OBS is connected) under the General settings tab.
With 2019 just around the corner, stay tuned for more updates and improvements because our plan is to keep on keeping 'em coming your way!